Solid loader tires make your workhorse a thoroughbred.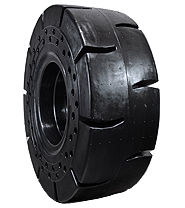 When you have a lot to move and no time for flats, you need SolidBoss wheel loader tires. Their solid, heavy-duty construction, tread pattern options, quality and flat proof guarantee sets the industry standard for wheel loader tires, skid steer loader tires and industrial tractor tires.
Our aperture tires provide a cushioned ride that is easy on man and machine. Expanded wheel solids are available in a variety of sizes and tread patters to match your applications, such as scrap metal loader tires. If you need custom tires call us. We can customize to meet your exact requirements.
With an impressive variety of designs, sizes and tread patterns, we have the right tires for your end loader or skid loader. A SolidBoss tire expert is available to answer your questions and get you a quote.
SolidBoss Aperture Tires
• General Construction
• Site Prep
• Landscaping
• Demolition
• Concrete
• Asphalt
• Dirt Work
• Recycling
SolidBoss Expanded Wheel
• Scrap
• Waste Management
• Transfer Stations
• Recycling
• Demolition
• Foundaries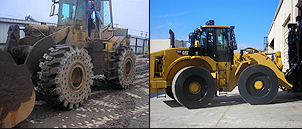 "I bought the 33×12-20 SEG from you back several months ago.
They are performing as you promised. Not having to worry with nails, etc. is a good thing. The first time I drove across a pile of scrap that would have punctured my pneumatic tires I had to smile and know we were OK!
Thanks again! "
– Tom, Pace Metal Fab – Pinnacle, NC
"My custom Bosses are working great out on the jobsites. The tires wheels and equipment all seem to be working well together, now."
– Dave – Custom Amish rough terrain forklift dealer – Central, PA
"We have installed SolidBoss tires on several machines at our facility and the tires have been performing excellent in the harsh environment of our auto shredding facility. We are convinced SolidBoss tires help lower our operating cost per hour.
The quality of your tires and your commitment to customer services has prompted us to specify SolidBoss as our primary supplier of large expanded wheel solid tires. We are now specifying our new equipment to have SolidBoss tires prior to delivery.
We look forward to a long, successful relationship with SolidBoss Worldwide, Inc."
– BJ, Maintenance Manager, automobile shredding facility Texas
"I own and operate a Flagstone Quarry in Pennsylvania. I drive my Skid-Steer over sharp stones all day long, digging in stone and carrying pallets of stone weighing around 3,000 pounds each. I was having flat tires almost every other day and, even worse, it seemed like it always happened when I needed to have to load the truck that came to pick up my finished product. I would have to replace the tires immediately.
A friend of mine had a set of AirBoss Tires with the replacement segments and he sold them to me. They were the best investment I have made in the Quarry. It is so nice knowing that I am not going to have a flat tire even though I may have to change a segment. At least it will not hold me up when the truck shows up for a load of stone. I would recommend these tires to anyone that works around sharp objects as I do with the stone."
– Robert, Quarry Owner, PA
"Thanks for making the best tires on the market, I have a set of AirBoss tires on our skidsteer, and have for the past three years. We use this skid-steer for cleaning out drainage ditches, where you can encounter almost everything from glass, steel rods, nails, and mud, without any time lost due to flat tires. These tires are JUST PLAIN TOUGH!"
– Jerry, Sr. Heavy Equipment Operator, Longview TX
"I felt my skid loader skid and maneuver with total stability and comfort. No bouncing. Great traction. I'm sold on SolidBoss!"
– Jim – Concrete Business – Covington, GA
"Here at our facility we have been using SolidBoss Tires for several years. It has been our experience that SolidBoss offers tire products with uncompromised quality and performance. We have used SolidBoss for skid steer tires on smaller equipment through our large CAT wheel loaders in both the expanded wheel and aperture hole tire designs. SolidBoss always has recommended the best tire for the application we are trying to fit, and has in every instance outlasted their competitor's tires and lowered our cost per hour of use.
Not only does SolidBoss deliver high quality, great value product, but their integrity in all of our business dealings has been refreshing as compared to other tire companies we have dealt with in the past. SolidBoss has 100% of our business in the applications they produce product for ."
– Mike – Metal Processor – Dallas, TX