SolidBoss Worldwide, Inc.
– Growth Happens When You Focus On Quality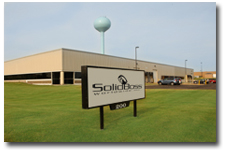 SolidBoss Worldwide, Inc., South Haven, MI, was incorporated in 2005 by CEO Robert Gilkenson with the commitment to provide the marketplace a reliable option to pneumatic and foam-filled tires. The company's focus on quality has sparked growth of 400% in ten years. Gilkenson attributes that phenomenal growth to a quality-first approach, an eye on new applications for the tire technology, gaining OEM acceptance, and providing the best service in the industry.
Gilkenson's experience selling heavy equipment tires, and construction tires, such as solid skid steer tires, dates back to 1998. His extensive background in sales and marketing of related products re-energized the product lines.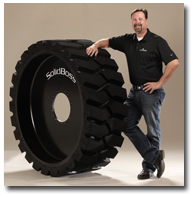 SolidBoss builds into all its tires heavy duty natural rubber content to provide long wear and sturdy performance in challenging environments. A variety of sizes, tread patterns and construction types are available to custom-fit any type of equipment. Typical applications for these tires are recycling, scrap yards, waste management, mining, demolition, construction and foundries, etc.
As SolidBoss reached broader and deeper into the marketplace, the need to supply custom solid tires became apparent. SolidBoss tooled up to meet those needs and has been providing custom solutions to companies and municipalities for several years.