Solid Skid Steer Tires Roll Past the Competition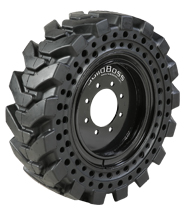 Having the right skid steer tires on your machine can make all the difference in your performance. For example, if your skid loader is riding on pneumatics, you are missing out on the efficiencies and cost-savings you can experience by operating on flat proof, solid skid steer tires. They provide a smooth ride for man and machine, and simply look great.
Additionally, with so many high-performance tires available through SolidBoss, it is time for an upgrade. Depending upon your workload, you can choose between SolidBoss™ Solid Aperture or Expanded Wheel tires.
Equipment Rental and OEM Experience
Equipment rental companies: Offer your customers high performance and guarantee no downtime due to flats by upgrading to Solidboss tires.
We even service the OEM market with a wide range of in stock and custom solid tires.
Upgrade your entire fleet of skid loaders and other equipment. Call a friendly SolidBoss skid steer tire expert for more information or a quote on solid tires or custom tires.
Read more about skid steer tires.