Reach for the Standard in Solid, Pneumatic and Foam-Filled Telehandler Tires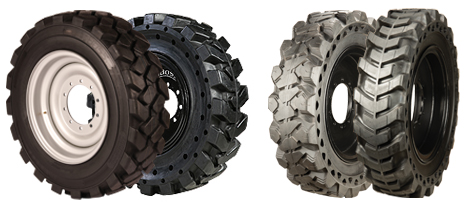 Your telehandlers will operate with stability and versatility when
riding on SolidBoss telehandler tires. We also offer LiftBoss
pneumatics, which are available foam filled. Finally, check out our non-marking tires!
Aperture Design Drives Telehandler Tires Quality and Performance
Our SolidBoss Aperture tires provide cushioning while eliminating downtime due to punctures. SolidBoss sets the standard for flat proof tires. With proven engineered design and the highest quality rubber compounds, you'll want your operator and machine sitting atop SolidBoss.
These tires are also available in custom tires to match your
application.
Contact your SolidBoss expert today for more information or to receive a free quote for tires, VRF tires and solutions. Before submitting your quote request form, gather key information about your equipment, including make/model, year, tire size and ship-to zip. Once you complete the form, we will respond promptly. Therefore, you will be well on your way to upgrading.