Solid Loader Tires Make Your Workhorse a Thoroughbred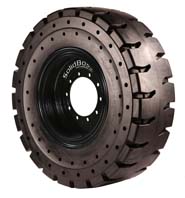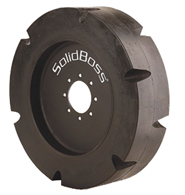 When you have a lot to move and no time for flats, you need SolidBoss solid wheel loader tires and solid haul truck tires. Their solid, heavy-duty construction, tread pattern options, quality and flat proof guarantee sets the industry standard for wheel loader tires, skid steer loader tires, and haul truck tires.
Aperture, Expanded Wheel Solids and Custom Tire Options
Our aperture tires provide a cushioned ride that is easy on man and machine. Expanded wheel solids are available in a variety of sizes and tread patters to match your applications, such as scrap metal loader tires. If you need custom tires, call us. We can customize to meet your exact requirements.
With an impressive variety of designs, sizes and tread patterns, we have the right tires for your end loader, skid loader, or haul truck. A SolidBoss tire expert is available to answer your questions and get you a quote.