LiftBoss® Pneumatic Telehandler Tires Are Built On Solid Experience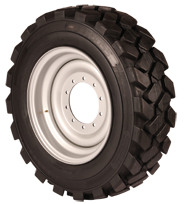 Our LiftBoss® pneumatic telehandler tires are built on the knowledge we've gained by perfecting our solid tires. Consequently, we meet the needs of telehandler operators and rental companies who don't require severe or rough duty capabilities, yet want reliable tires that offer traction, stability and flotation.
Field-Tested, Our Pneumatic Telehandler Tires Lead
In field tests, LiftBoss Pneumatics outperformed the industry leading tires. They provide longer life of tire and show significantly less damage while operating in gravel, mud and other rubble.
Contact us to get the perfect tires for your telehandler application.
SolidBoss Foam Fill Telehandler Tire Capabilities
Foam fill decreases downtime by injecting a mixture of foam and rubber crumb into a pneumatic tire, replacing the air. Therefore, operators eliminate downtime from punctures in harsh work environments. Foam fill also maintains the tire's structure and integrity from punctures by nails, bolts, or rebar. However, the foam will not prevent a tire failure from cuts or gouges that penetrate the tire.
SolidBoss offers the LiftBoss tire with foam fill in two sizes, a 370/75-28 and 400/75-28. This service is available in North America.
If you are interested in SolidBoss LiftBoss Telehandler foam filled tires please give us a call at 888-258-7262, or submit a Quote Request Form. Be sure to gather information, such as machine make/model and year, tire size, and ship-to zip code prior to completing the form.