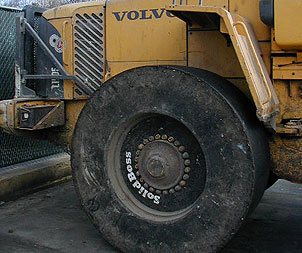 Solid skid steer tires offer you an affordable solutions for replacing your old air filled or pneumatic tires. Solid tires from SolidBoss tire weigh more then a normal air filled tire. What this does for you in adds a great little bit of extra weight to your vehicle. This give you better control and handling when driving over uneven surfaces.
The added weight on the vehicle also makes it a smoother and better ride for the driver. Solid tires offer you a better grip on surfaces conforming slightly unlike air filled tired which more bubble around the surface. These key factors along with the long lasting and flat proof design offer you the best possible solution for affordable skid steer solid tires in the marketplace today. Innovative products are why are customers return and recommend us to their friends. See how we can help you today.
Unique tire compounds and materials made with natural rubber offers a superior tire for you to buy. Solid Boss offers the best tire patterns, styles and innovation for your companies heavy duty vehicle.
SolidBoss offers several options for Affordable Skid Steer Solid Tires. SolidBoss no flat tire designs work for a variety of applications and on all OEM equipment & vehicles. Shop all our options on our website or call 888-258-7252 to get a consultation today.