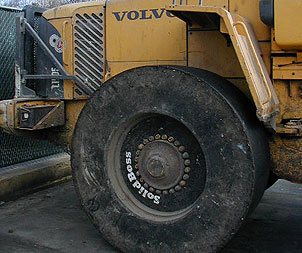 Solid boss offers excellent heavy equipment solid tires that are built with the best quality tire technology. Our solid tires are built for heavy vehicles and vehicles working in rough conditions. SolidBoss tires have the ability to withstand all weather and surface conditions and offer different size and patterns to match your terrain. Heavy equipment vehicles require high performance and reliability. They require a tough tire that withstand heavy pressures and forces that come with using heavy equipment vehicles.
Our heavy equipment tires are created to be long lasting and withstand long wear cycles. They don't require replacement for any puncture or even nails and could continue to work for the length of the tire with small nails or debris stuck in them. We strive to make tires that out perform our competition and are specifically built for heavy equipment vehicles. We offer a variety of solid tires that are custom built to work with your specific workloads. Natural rubbers using unique tire compounds create a superior unique tire. SolidBoss tire are built strong for heavy equipment vehicles and can with and driving through scrap metal, nails, debris and any weather condition. SolidBoss tire will save you time and money as they offer lower operating costs then using pneumatic tire that can result in tire failures and flats.
If you are looking for the best driving experience solid tires are for you. Maximize performance and stability on skid loaders with solid tires that keep your skid steer equipment constantly moving. Solid tires are built to be the most reliable and to withstand the pressure of heavy duty work. Our tires have been built for years to survive and are unmatched in durability, performance and quality. Update your whole fleet of heavy duty vehicles to our solid skid steer tires to keep your equipment moving quickly, powerfully and efficiently. A solid choice for heavy-duty applications.
SolidBoss no flat tire designs work for a variety of applications and on all OEM equipment & vehicles. Shop all our options on our website or call 888-258-7252 to get a consultation today.