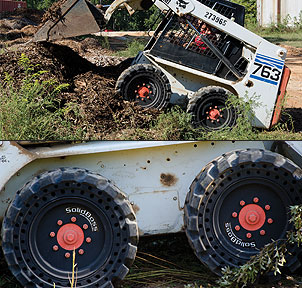 Solid tires are built with high quality natural rubber content. That means our tires will last longer and perform in difficult environments. Our solid skid steer tires are built to tackle tough terrain that may be found on construction sites, scrap metal yards and more. Your heavy duty work equipment and vehicles will ride better on Solid tires that are leading in performance. We have a variety of Solid skid steer tires to provide the best fit for every heavy duty application.
Great Traction Means Superior Performance
Our solid tires offer great traction and deep lugs cling to any surface to provide a superior driving experience. We offer exceptional skid steer tires that are custom built to meet your various applications and help to improve performance on your work vehicle. Solid tires are designed with high elastic natural rubber compound to reduce chunking. Our quality first approach continues to provide us with leading tire technology that will maximize your workplace performance. Solid tires are made using only high quality materials that are long lasting, so, you can drive smoothly for years and years to come. Our solid skid steer tires are flat proof. Increase your driving experience while improving your performance
Roll Over Just About Anything
Never worry about driving over a nail or scrap metal again. Switch to our flat proof solid tires to eliminate pneumatic tire failures, flats and downtime. Save money by switching from pneumatic tires to our flat proof, solid skid steer tires on your whole fleet. Solid tires get a longer life, which means less time spent replacing tires. SolidBoss offers a variety of no flat custom designs for a variety of applications on all OEM vehicles and equipment. We offer a variety of solid tires to ensure the highest performance even in the harshest environment. We even have options for improved traction and flotation. Contact us for your custom solid skid steer tire solution today. Solid tires are an easy choice for your toughest jobs.
SolidBoss no flat tire designs work for a variety of applications and on all OEM equipment & vehicles. Shop all our options on our website or call 888-258-7252 to get a consultation today.