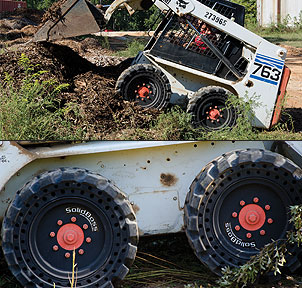 Solid skid steer tires are a remarkable way to increase your efficiency. Solid skid steer tires offer you a no flat solution to air filled tires. Easily making them the preferred tire option when choosing replacement tires for your skid steer.
Skid steer solid tires are more affordable then you think. Just because you get the amazing benefits of a solid tire does mean you have to sacrifice quality, durability or anything. Jump on-board with the newest technology and innovation for your skid steer vehicle. Get a superior quality product by SolidBoss and worry no more about flat tires or delays from changing and dealing with flat tires on your skid steer. Get the best and no less and choose SolidBoss for your replacement skid steer solid tires.
Unique tire compounds and materials made with natural rubber offers a superior tire for you to buy. SolidBoss offers the best tire patterns, styles and innovation for your companies heavy duty vehicle.
SolidBoss offers several options for Skid Steer Solid Tires. SolidBoss no flat tire designs work for a variety of applications and on all OEM equipment & vehicles. Shop all our options on our website or call 888-258-7252 to get a consultation today.