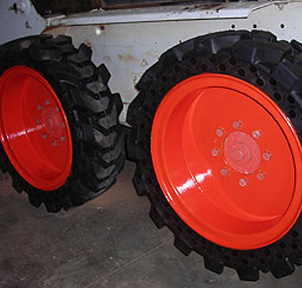 Skid steer tires come in many shapes and sizes available for OEM vehicles. Do you want a reliable product that's going to last. that's not going to go flat. That's not going to chunk. Do you want a quality product that's been built for years to survive, then you should be looking for skid steer tires from SolidBoss. Offering unmatched performance, durability and quality. Our tires withstand the pressures of heavy duty work and are built to be the most reliable cost effective tires for your business.
Whether your in the general construction, site prep, recycling, landscaping, demolition or any other industry our tires are specifically built & made to support you and your vehicle at any job site. Take a look at everything SolidBoss has to offer.
Choose from a variety of tread patterns, tire sizes and materials to maximize your productivity and lower your operating costs today. SolidBoss builds into all its tires heavy duty natural rubber content to provide long wear and sturdy performance in challenging environments. SolidBoss is here to meet your needs and has been providing custom solutions to companies and municipalities for several years. We are committed to providing the marketplace a reliable option to pneumatic and foam-filled tires.
SolidBoss offers several options for Solid Skid Steer Expandable Tires. Each tire offers unique characteristics like better traction, softer compounds and extra durability. Shop all our options on our website or call 888-258-7252 to get a consultation today.