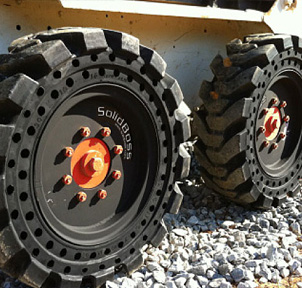 Tires wear over time especially outdated air filled tires. When tire pressures are low or no inflated evenly tires can become weak and brittle. Weather conditions also play a big part in tire length. Finding the right replacement is important.
Get rid of those old air filled tire and start using the new technology including in solid skid steer tires. Solid skid steer tires offer many unique characteristics over regular air filled or nitrogen filled tires. No flats and no inflating low tires. All the money you save by not wasting time messing with flat tires or old wrinkly tires. Get a high quality solid skid steer tire set from SolidBoss.
Matching perfectly to any OEM size tire we have the best set for your vehicle or fleet. You will be impressed with the high quality replacement solid skid steer tires from SolidBoss. Imagine never having to worry if your tires are inflated correctly or if you have a hole or a nail or who knows what. The replacement solid skid steer tires offer a comfortable quiet ride to the vehicle and the driver.
Choose from a variety of tread patterns, tire sizes and materials to maximize your productivity and lower your operating costs today.
SolidBoss offers several options for Solid Skid Steer Expandable Tires. Each tire offers unique characteristics like better traction, softer compounds and extra durability. Shop all our options on our website or call 888-258-7252 to get a consultation today.