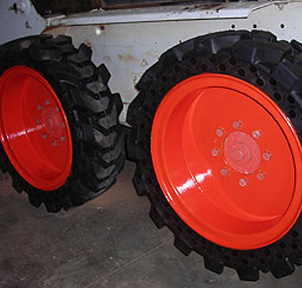 Solid Skid Steer Tire design by SolidBoss offers you a superior performance tire solution for all seasons and road conditions. You can buy an affordable solid skid steer tire that comes in a wide range of sizes.
Buying a quality product is very important in today's solid skid steer tire marketplace. There are many options and many brands available. But not all brands are the same. Buying a high quality product from SolidBoss guarantees you a long lasting tire built for anything. Buying low quality tires will ultimately result in tire chunking, low quality material and product that don't last. We only manufacture and produce high quality long lasting tires for our customers.
Tires that just work are important for your business to run smooth. Built from the best materials SolidBoss solid skid steer tires beat out the competition. The reliability of our Solid Skid Steer Tire will increase productivity and greatly reduce downtime. Buy a high quality product and get high quality results.
Solid Skid Steer Tire are designed in a variety of tread patterns and sizes. SolidBoss flat proof tires work for a variety of applications and on virtually all OEM equipment.
SolidBoss offers several options for Solid Skid Steer Tire. Each tire offers unique characteristics like better traction, softer compounds and extra durability. Shop all our options on our website or call 888-258-7252 to get a consultation today.